102nd Club Meeting report
2013年 11月 30日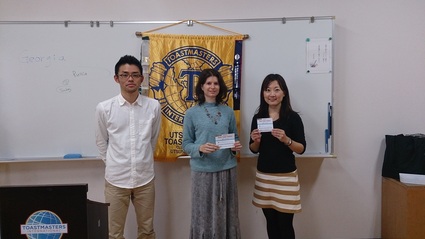 ・2013.Nov.24th(Sun) 13:30~15:30
・at Machipia
Awards
Table Topics : Ohshima, Itani
Speech     : Not Applicable
Evaluation     : Not Applicable
Meeting started at 13:30.
Toastmaster Miyake welcomed 1 guest: Ms. Itani.
Toastmaster Shogaki reminded everyone about the End of Year Party on Dec 7th at 6:00pm at Taj Mahal.
Wordmaster Takahashi introduced the Phrase of the Day - 'It's time to...'.  
Timekeeper: Toastmaster Shogaki.
Vote counter: Toastmaster Momozu.
Table Topics
Table Topics Master Momozu
Theme 1: "Celebrity"
1. Could you tell us a famous person, either in history or is alive, who influenced you? Why and How?
2. If you happened to see your favorite famous people in the street, what will you do? Why?
3. If you invited famous people to your house, who whould be your guests? Why?
4. If you were a prime minister or a president of your country, what would you want to do? Why?
5. If you were a president of Russia, what would you want to do?
Theme 2: "Change"
1. Can you name three important technological changes in your life?
2. What type of technology has helped the most people?
3. Do you try and keep up with technological changes? What skills have you added in last five years?
4. What social changes have happened in your native country in your lifetime?
5. What is a custom or tradition you would like to change in your native country? Why?
Excellent topics with interesting responses.
Table Topics II
Table Topics Master Miyake
1. What is your personal buzzword?
2. What past buzzword do you still remember?
3. What encouraging phrase do you use to motivate people around you?
4. How would you market Utsunomiya as a tourist attraction?
5. Where is the best place in Utsunomiya city?
6. Please introduce your home town.
Prepared Speech
1.「French Lick Resort」 by   Kato (CC6)  Evaluation - Takashima
In today's meeting there was only 1 English speech.
Joke Master Miyake
「Georgia and Georgia」 
Members laughed but were not sure why it was funny !
General Evaluation  
There was some confusion due to last minute cancellations. Due to cooperation between members, the timing was smoothed out and some roles were rearranged. Main event was Table Topics due to extra time available. Everyone delivered good speeches and the meeting was run in a timely manner.