110th Club Meeting report
2014年 04月 05日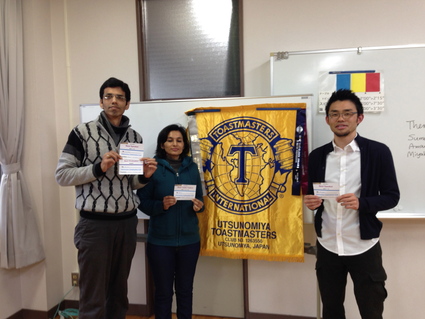 Date: March 30 (Sun ),2014, 13:30-15:40
Venue: Machipia
4 members
Awards
Table Topics : Aman
Speech : Sumeet, Miyake
Evaluation : Sumeet
Toastmaster Miyake welcomed 1 guest: Mr.Ando
Toastmaster Momozu reminded everyone about the payment for dues.
Wordmaster Miyake introduced the words of the Day -' less.',' lesser', 'few', 'fewer'
Timekeeper: Toastmaster Sumeet
Vote counter: Toastmaster Aman.
Table Topics
Table Topics Master- Momozu
Theme 1: "Staring new life"
1. Could you tell us the most impressive time just before you started new life? When was that? How did you feel it?- Sumeet
2. Could you tell us the difference between what you expected your new life and what actually you experienced?- Aman
3. What is the key points for the new house/apartment where you decided?- Miyake
Theme 2: "Spring" ( The topics were given by ™ Kobayashi.)
1. Please tell us the way to enjoy Cherry blossoms.- Ando
2. If you are a pastry chef, what kind of new sweets related to Cherry blossoms do you make?- Sumeet
3. If you could move to any work place you wanted, where would you like to go and why?- Miyake
4. If you make a new pink colored item in your business, what proposal are you going to make?-Aman
Theme 3 " Travel "
1. Could you tell us the troubles during your travels?-Miyake
2. Which city do you recommend to travel?-Ando
3. Discribe the cultural differences between your native country/town and other country/town.-Sumeet
Prepared Speech
1." Influence of word " by Miyake (CC#9) Evaluation - Sumeet
2. " Children and Sports" by Aman (CC#2) Evaulation - Momozu
3. " Ki ' o ' tsukete " by Sumeet(CC# 3) Evaluation- Miyake
Joke Master - Sumeet
Question: Which is the most effective way to spread rumors? 1,telephone 2. telegram 3.women
General Evaluation - Momozu
Although we had only four members, we had three prepared speeches. Good job!
Club business session
1. How to recruite new members due to decrease of members?
2. Today's guest Mr. Ando said he would be a new member from April !